With an impressive score of 72.95, Quảng Ninh has maintained its lead in the rankings for six consecutive years, thanks to its outstanding economic management quality and friendly and supportive business environment.
HÀ NỘI — The northern province of Quảng Ninh has been named the most competitive province in Việt Nam for the sixth year in a row, according to the Provincial Competitiveness Index (PCI) 2022 report released by the Việt Nam Chamber of Commerce and Industry (VCCI) and the US Agency for International Development (USAID) yesterday.
With an impressive score of 72.95, Quảng Ninh has maintained its lead in the rankings for six consecutive years, thanks to its outstanding economic management quality and friendly and supportive business environment.
The efficient performance of the Quảng Ninh Investment Promotion Agency (IPA Quảng Ninh), as well as the various public administrative service agencies at the provincial, district, and commune levels, has earned high praise from businesses.
Bắc Giang is in second place for the first time, with a score of 72.80, 8.06 higher than the previous year. Hải Phòng is third with a score of 70.76, followed by Bà Rịa-Vũng Tàu (70.26 points) and Đồng Tháp (69.68 points).
The remaining positions in the Top 10 PCI 2022 were Thừa Thiên Huế (69.36 points); Bắc Ninh (69.08); Vĩnh Phúc (68.91); Đà Nẵng (68.52) and Long An (68.45).
Compared to PCI 2021, three centrally-run cities, Hà Nội, HCM City and Cần Thơ, were not in the Top 10 and even dropped from last year's ranking.
Cần Thơ dropped five places to 19th, while Hà Nội dropped ten places to 20th. HCM City dropped 13 places to 27th.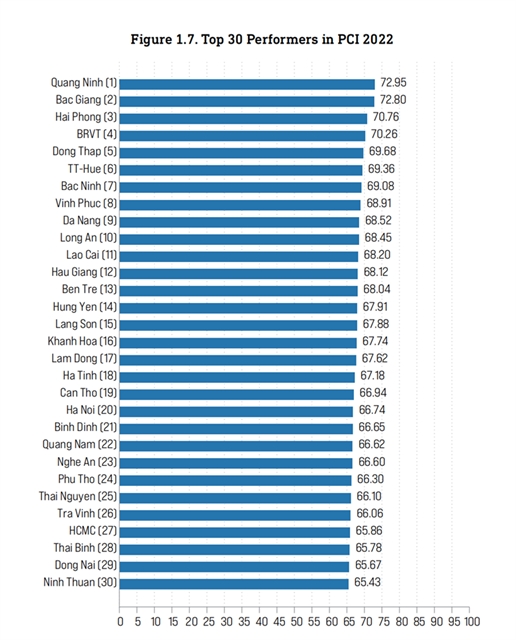 The 2022 PCI report reveals the tremendous efforts of both businesses and provincial governments to navigate through the rough waters of the COVID-19 pandemic, according to Phạm Tấn Công, VCCI chairman.
Both domestic and foreign firms reported improvements in administrative procedures, reductions in the time costs of bureaucratic compliance, and liberation from the burdens of informal charges.
However, the effects of the challenging economic context are also clear in this year's report, as reforms in many policy areas slowed and business optimism remained low.
Many firms report multiple difficulties in access to finance, hiring employees, limited infrastructure growth, and a gap between central policy and implementation at the grassroots level.
"Businesses in Việt Nam face multiple obstacles from the challenging economic context," Công said. "We hope that provincial and municipal governments will further strengthen business support policies that contribute to a more enabling and stable domestic business environment to make up for the instabilities of the global market for firms."
In this year's report, VCCI also launched the Provincial Green Index (PGI) for the first time, an initiative developed by VCCI with support from the USAID and private sector partners.
This index evaluates and ranks provinces' environmental policy from the perspective of businesses to promote better business behaviour and practices, including the application of new green technologies.
Trà Vinh, Lạng Sơn and Bắc Ninh are the TOP 3 PGI performers in this inaugural edition.
"The new Provincial Green Index builds on this prior success, and it signals a greater recognition among the private sector that environmental considerations are equally important for business success and long-term economic growth," said Aler Grubbs, USAID/Việt Nam Mission Director.
With the introduction of the PGI, we hope to encourage provinces and cities in Việt Nam to pay greater attention to environmentally responsive economic development, provide up-to-date information that informs investment and environmental policy, and ultimately promote an environmentally friendly business ecosystem that contributes to the country's green growth orientation, according to her.
The Provincial Competitiveness Index (PCI), the result of a long-standing collaborative effort between VCCI and USAID, is designed to assess provincial economic governance, the ease of doing business, and administrative reform efforts by provincial governments in Việt Nam to boost private sector development.
The 2022 PCI report was developed from responses from 11,872 firms, including 10,590 domestic private businesses and 1,282 foreign-invested enterprises (FIEs) operating in Việt Nam.
In total, a stunning 176,496 unique businesses have participated since the beginning of the PCI survey in 2005, reflecting different facets of the Vietnamese business environment.
Developed and introduced in 2005, PCI comprises ten sub-indices: entry costs, land access and tenure, transparency, time costs, informal charges, provincial leadership proactivity, policy bias, business support programmes, labour policy, and law and order. — VNS